THE POOL is the first pool in Logroño that opens its doors every summer, which opens the swimming season in the capital of La Rioja, which gives the starting signal for dozens of wonderful summer evenings, which welcomes everyone with their refreshing drinks waters
The Pool of Hotel Las Gaunas
THE POOL is the pool of Hotel Las Gaunas, the hotel of reference in Logroño for anyone who needs to stay in the capital of La Rioja, whether it is passing through for work reasons or if it comes to Logroño for tourism or to attend a concert, farewell or any other type of event.
It is a small urban pool (without grass) ideal to cool off after a long day of work or fun, and sit next to it on any of the loungers available to relax and enjoy a cold beer or one of our special cocktails .
Free entrance and parking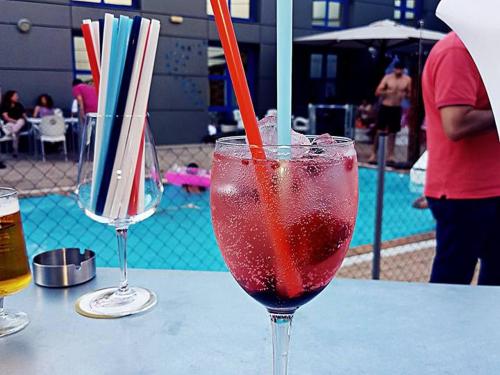 Perhaps the most striking of THE POOL is the price of your ticket as it is totally free for any client of the hotel, but also for any who wants to get closer to refresh with us, always, yes, to have a drink in the cafeteria or in the enabled bar next to the pool.
In addition, like any user of the rest of the year at the Cafeteria of the Hotel La Gaunas, those who come to THE POOL will have free parking in the parking lot of the hotel located just in front. All are advantages.
Ideal for children ... and also for adults
THE POOL is not an Olympic or sports pool, it is a playful, fun, small and manageable pool, perfect for children to play but, eye, always, always, always under the supervision of their parents.
But, in addition, THE POOL is equipped as a Chill Out area to relax, sunbathe (or shade) and enjoy the company of your partner or friends.